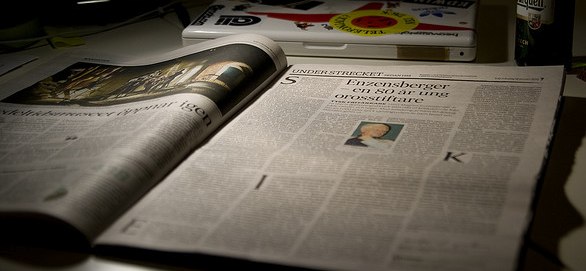 There's an important discussion going on here in Sweden at the moment, about online newspapers and the possibility to comment on articles, and wether or not it's working. Some leading newspapers think it's not at the moment. Leading representatives are heavily engaged in this discussion, that reached some sort of climax (and resulted in shut-downs or changes to the commenting functionality) due to extremely racist comments, but not solely because of that, during the tragic incident in Norway.
They are, quite rightly, looking at this from a technical, resource and reader involvement perspective. Recently a media industry expert (Sofia Mirjamsdotter, Resumé) said it's no surprise that this happened (closing down, limiting and/or changing privacy policies) as none of the newspapers had a participation/comment strategy. That's looking at things from a very narrow perspective given the massive impact of (possible) reader involvement in online journalism. You don't have a strategy for comments, you have a strategy for online news publishing, if at all that's what you choose to call what you do.
Anna Hjalmarsson of Aftonbladet hopes that in five years, they'll have found better ways of handling discussions where readers openly, and respectfully, meet each other and newspaper representatives. She also says that many active commenters express themselves as if nobody from Aftonbladet is going to read what they write, as if the discussions in the comment fields is something for the readers only.
Now that's spot on, and it's most likely contributed to a negative language and a tone. If an official representative (i.e. article author) revisits and responds, well, we'd probably have a more nuanced discussion. Maybe even a professional one. A comment function has less to do with the possibility to make yourself heard, and more to do with getting a response, a reaction. We talk to/with people. If the response is from somebody calling you an idiot, wishing you dead. Well.
Björn Hedensjö of DN.se says they're genuinely interested in reader involvement, but at the same time they have limited resources. He says that the editors must make an active selection when it comes to which subjects should be discussed and then also engage in that following discussion. That's a very good start. Selecting what articles and pieces are most relevant and likely to inspire, and facilitate, discussion. And because selecting is already a key aspect of journalism, it's a natural extension of that. What is news worthy and what's not, is a constant question. Why shouldn't what is talk worthy? Often they overlap, but far from always. They are different and have different selection criteria. Especially considering the resource issue.
So considering this, I think we arrive where the real challenge sits. The key question with regards to journalism in general today, is the role it plays in society. Media (organisations), traditionally defined by the properties of the specific media (TV was always very different from radio, technically speaking), the organizational structure (ownership and possibly political associations) and funding/financing (licence and/or ad financed).
Media has always been institutions in society. They've always helped shape culture in the broadest and biggest sense. But newspaper journalism has mostly been about them writing and telling us about things. It's been about sender-receiver. It's been like that because of the technical context when it started, and when it was defined, explicitly or not. The technical properties of media used, did that. It's all a product based on what was even possible. Now that's changed. When an article starts and stops is changed. Finite has become infinite. What news story telling is (can be), has changed. So really what needs to happen, which is the reason it's not about a strategy for comments, but rather a strategy, and definition, of online news journalism, is rethinking the sole purpose and role of online journalism. Which, of course means, the role of journalism in general. In this case mostly, but not exclusively, from a written word point of view. I really hope the question is answered on this level, and not mostly on a technical level, as many comments seem to suggest.