MITSloan presented some results from a survey about the need for digital transformation (companies face an imperative: adopt new technologies effectively or face competitive obsolescence as the study states). Results include an interesting, but not so strange, paradox:
78% say achieving digital transformation will become critical to their organisations within the next two years
Only 38% of respondents said that digital transformation was a permanent fixture on their CEO's agenda
I think this circles the most pressing issue and bottleneck; the interchangable use of digital transformation and business transformation.
Looking at digital technology (in whatever shape or form) from the level you stand, will not help you transform the business. Albert Einstein said that "No problem can be solved from the same level of consciousness that created it". If you are expecting business transformation, you need to work on where that transformation might be going before you look at digital technology. Multiple answers will do too, scenario planning and future creation are exercises in plurality, but you simply cannot view things like you used to.
Despite growing acknowledgment of the need for digital transformation, most companies struggle to get clear business benefits from new digital technologies. They lack both the management temperament and relevant experience to know how to effectively drive transformation through technology.
Brand therapy in order to aim business transformation
So It's backwards. Technology won't give you the new future and reveal possible business benefits, it helps reach it and to an extent anticipate it. Companies need to revisit their entire reason for being, the meaning of them in peoples' lives. Turn it inside out, because whatever you are now was created in a reality which is no longer. You need to go to brand therapy. Looking at yourself through the same old eyes simply cannot reflect a transformed image. You need a new level of self consciousness which means you have to have the guts (and realise the scope of a transformational process like this) to question old truths. You have to be prepared to redefine what you do (the business) as opposed to how you do things (the tools).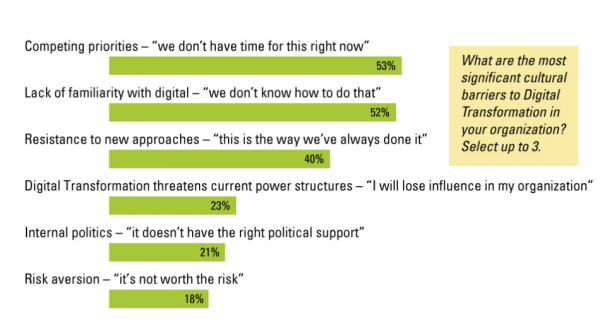 What I say is missing from this is the lack of a clear purpose and new self consciousness. The pieces that help give change a clear direction, reason and fundamental meaning.