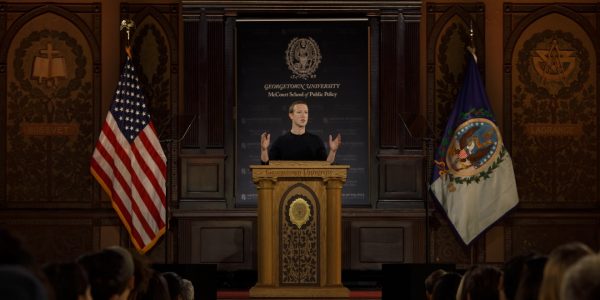 There are a number of levels on which a great idea can go wrong. At least 3 in my opinion. Strategically good/bad. On the actual idea level (problem-solution) and finally execution. This is important in the Facebook case. I think a lot of the discussions following (and also preceding) Mark Zuckerberg's speech at Georgetown University is lacking nuances.
It's impossible to find and therefore promise to take care of content that breaks a guideline in any other way than algorithms. That's a fact. Some stuff will be missed. But systems will learn. Strategically – focusing on that path is the right one.
Facebook is doing a lot of interesting things execution wise around that strategic direction. Not all great, but that's how it works.
I like this:
Facebook's chief operating officer, Sheryl Sandberg, says that dishonest advertisements political candidates put on Facebook should stay there because they represent important discourse.

From Futurism
Totally agree. That is something traditional media (and other less traditional, mind you) should do something useful with. They couldn't themselves. We should be super thankful that this can be done today. That "evidence" doesn't disappear.
"Like a lot of things Facebook does, I think it's an interesting idea, but poorly executed," Andrew Seaman, the ethics committee chairperson of the Society of Professional Journalists, told Futurism. "I think one problem facing society is that people don't know how to spot trustworthy news sources in today's media environment. So, asking them to help highlight quality information seems foolish."

Also from Futurism regarding the ideas Facebook has around people ranking/indicating sources they like and trust.
Here's the right way forward I think. Facebook is best at understanding, strategically, the most promising way forward. They should work closer with media and external media/research partners (what do I really know about this and how they're doing it today? No much, I have to admit) in order to try how to get the execution right. I agree with the criticism of Zuckerberg's very limiting knowledge and understanding of media (and actually, perhaps, freedom of speech beyond the technology bubble…). Again, great ideas that are poorly executed. Much better than having bad ideas.
Think this, from Jack Dorsey is important and should be at the heart of the strategic efforts from Facebook, being an amplification machine. This is the big danger – amplification and volume – more than the content itself.
"We talk a lot about speech and expression and we don't talk about reach enough, and we don't talk about amplification. And reach and amplification was not represented in that speech," according to the journalist Sarah Frier, who was tweeting from the event.

From Business Insider
People get so mad and reactionary. We all benefit from picking ideas and thoughts appart more granularly. Let's not throw the baby out with the bathing water.