I came across "Who you are and what you do is your brand", over at Seth Hosko's blog, about how Gap does things the wrong way, and that they should learn from H&M and Uniqlo. He's not alone. If the crowd sourced logo re-design was a hurried and panicked decision or a plan, I don't know, but what they're doing doesn't strike me as strategically sound (and it's a badly executed one too, but that's more subjective). The statement is definitely right in the H&M case; that who you are and what you do is your brand, as they're about affordable fashion for everybody and they really connect with everybody. Affordable fashion yes, but still they have a key to the finer fashion world through collaborations with well known fashion designers. They're quite remarkable in vision, strategic decisions and in how that is carried out.
Here's a project we did for our client H&M (full disclosure; I work for Gyro and H&M is a client), and pretty much all about connecting people to brands. The Lanvin for H&M launch, for the first time via digital/social media only and not as they usually do; with big outdoor campaigns, TV and that package.
So really simplified; how do we launch the designer collaboration through social media only, and sustain interest, and engagement, over a significant period of time?
H&M launched lots of cryptic films, if you will, about design and what it is, where it comes from and its importance to many. Framed in a way that it generated heaps of commenting and guesses.

Films kept coming, and so did comments and guesses.
Fast forward. The designer is out; it's Alber Elbaz of Lanvin. Fashion world exclaim woohoooo!! Trending topics on twitter and all that. The films have talked about his view on design, influences and inspiration and consequently his way of transferring this to fashion. Successful fashion to boot. Fashion that is loved.
At the same time, 4m+ H&M fans on facebook, many of which are fashion interested bloggers, are spending time and energy on expressing what they like and perhaps even live for. It's about their inspiration, their taste and their influences. They too transfer this into something appreciated by others and hopefully even commercially successful.
We facilitated a collaboration with these people, in order to spread the word about Lanvin even further, while giving them something back; traffic and attention. Hard currency in a blogger's world. A widget helped gauge the love for their blog, and give them a chance to win the exclusive trailer to the big Lanvin for H&M show. Only to feature on the winning blog, with H&M directing traffic their way. So people joined, got the widget and gauged their blog love.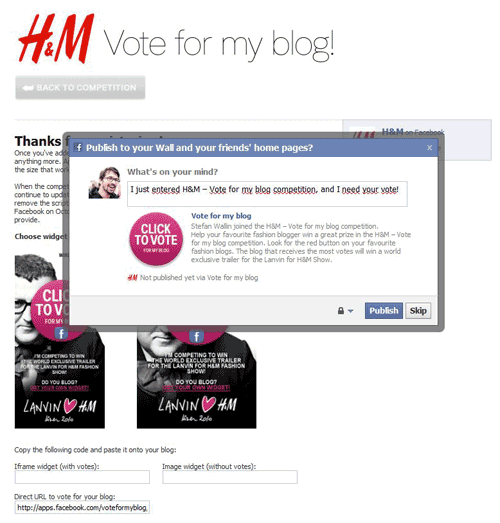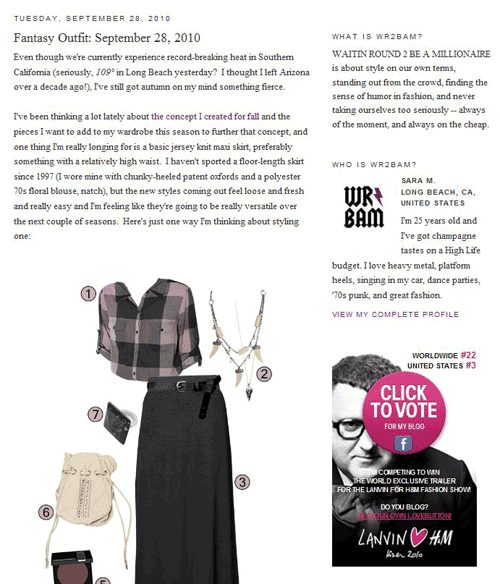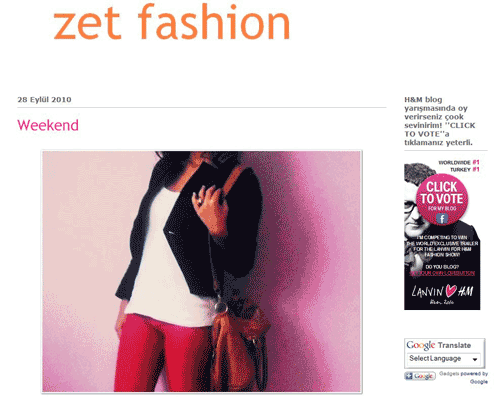 This little widget had value for fashion bloggers, and relevance in where and who it came from. The strategy was to connect. And the small execution was the connection, reaching millions of people, engaging tens of thousands and finally promoting only one. It generated heaps of traffic and attention to the winning blog (strangely enough, the clip wasn't ripped as we had thought, given we didn't have an embed code. After all, views should happen on the winning blog). One lucky winner enjoyed a wave of interested fashion peeps. Here's the case film.
Untitled from Gyro Scandinavia on Vimeo.