Var på ett rå-tekniskt event för ett tag sedan. Internet of things, Artificiell intelligens, producenter av sensorer, batterier och plattformar och så. Ni fattar. Väldigt mycket teknik.
Det häftigaste med teknik idag är enligt mig att den, använd rätt, är helt osynlig eller upplevs helt obemärkt. För att få till det är det extremt viktigt att tänka och designa utifrån en användare. I vissa kretsar helt självklart, i andra mindre självklart.
Jag medger att jag är lite sjuk. Vi är många sjuka, som pysslat med "internet" sedan det begav sig (nåja, för konsumenter i bred bemärkelse, så där under 90-talet). Vi går och tittar och observerar och upptäcker en massa dumma glapp mellan människa och teknik. Och med teknik inkluderar jag den allra enklaste av tekniker men även den mest avancerade. Vi ser glapp mellan människa och stad. Mellan förälder och dagis (förlåt, förskola) och pendlare och buss (speciellt när den är försenad men inte kommunicerar). Vi testar appar, bygger tjänster, fnular och testar.
Det blir galet när teknik står i centrum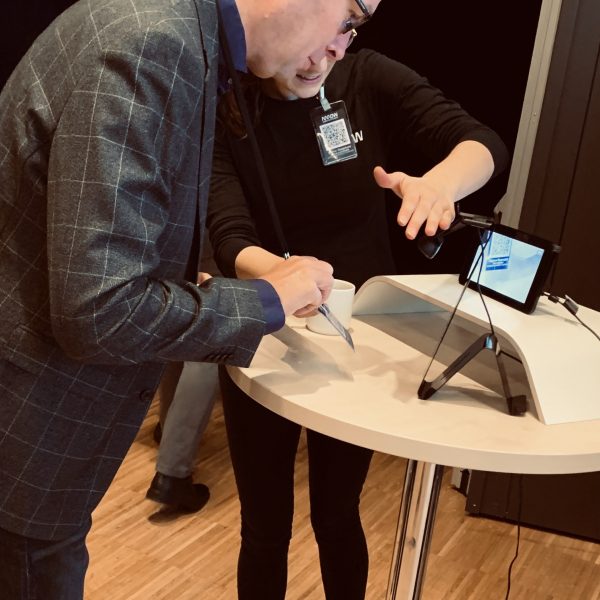 Tillbaka till eventet då. Arrow IoT 2019. Där teknik var temat och till synes också i centrum. Här ser vi en man som försökte komma in. Med hjälp av en lösning som funnits länge och hittat sin användbara plats lite här och där: QR-koder. Effektiv i exempelvis Bank-ID för att bevisa att vi är på en plats och efter det glo lite Face-ID för att identifiera oss (Skandiabanken exempelvis). Både smidigt och ett extra säkerhetslager. Mannen här däremot tvingas till en massa extra aktiviteter och märkliga beteenden bara för att få komma in till ett event han redan registrerat sig till. Det blänker i plasten på hans namnbricka där QR-koden sitter. Det ställer till det. En mänsklig operatör måste vara närvarande vid varje scanningstation för att skapa skugga och vinkla namnlappen rätt. Jo det klart, lite mänsklig kontakt blir det ju. Men av helt fel anledning.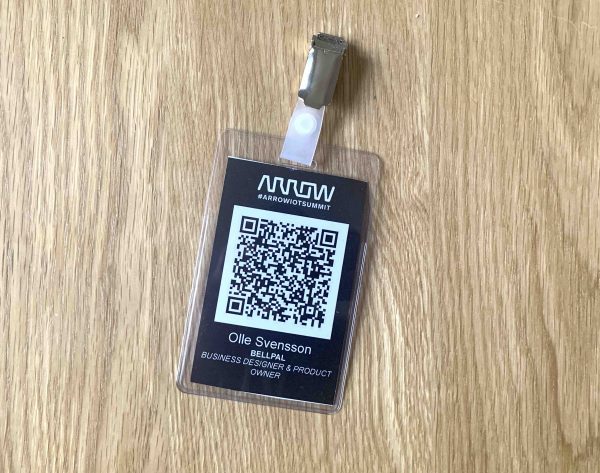 Här ser ni min namnbricka. Vad tänker ni? Precis. Här minglar man runt och vill träffa rätt människor. För det behöver jag komma ungefär 50 cm från människan. QR-koden däremot ser jag loud and clear (QR-koder kan, för den som inte vet, vara vääldigt små och ändå scannas av en kamera utan problem. Helt bakvänt. Ogenomtänkt. Och det krävs inte mycket.
En superenkel lösning som är tillräckligt bra
Denna lilla reflektion – av ett trivialt exempel – bryr sig inte om vilken (lika billig och enkel) teknik som hade kunnat göra detta mycket bättre. QR-koder kunde säkerligen funkat alldeles utmärkt som lösning. Det som behövs är att man som ansvarig gör minst två superenkla saker. Dessa är delar av ett mer omfattande tillvägagångssätt och alla med kännedom och erfarenhet av tjänstedesign, UX/CX research eller andra design-verktygslådor där användaren står i centrum känner dom. Jag vill hävda att gör man två förhållandevis enkla saker så kommer man nästan helt automatiskt och gratis väldigt långt. Gör man en tredje sak, som kräver ett lite lekfullt och nyfiket drag, kommer man ofta hela vägen fram till en mer än OK lösning.
1 Sätt människan i centrum med några enkla frågor
Vilka är våra användare? Lista dem så gott ni kan. Tidigare erfarenheter?
Vilka är våra mest centrala (prioriterade) användare? Vilka är mer avgörande? Vilka dikterar mer än andra hur er lösning ska se ut? Varför? Låt flera perspektiv utrycka sig, gärna så många som möjligt och även de utanför projektgruppen.

Gör gärna mycket mer än så, men gör i alla fall detta.
2 Deras önskade effekter och resultat
Ni vet säkerligen exakt vad ni vill få ut av er lösning, i mitt fall ett event. Men vad vill de olika användarna få ut?
Om de klappar er på axeln och säger "wow, det var såå bra". Vad har hänt då? Vad stod ut och var mer än bara OK?
Vad har de för mål? Vad vill de känna, göra, komma ihåg? Vad ligger bakom dessa mål, alltså varför vill de detta? Hur når de dessa mål annars, utan er lösning (var absolut bättre än så)?

Institutionella falska sanningar finns i de flesta organisationer och är livsfarliga. De är exempel på hur tradition, rutin och erfarenhet kan bygga upp en kontraeffektiv och direkt farlig kunskapsbas som inte reality-checkats på länge. Så. Tala med en användare. Det är bättre än noll. Faktiskt en 100%-ig förbättring. Tala sen med 5 personer istället för 1. Kan varje inblandad person i projektet tala med 2 personer? Helt plötsligt har ni användarens egna ord med i leken med liten insats. Involvera dem som faktiskt talar med användaren (kundtjänst).

Skriv upp användarnas mål i en kolumn. Skriv upp era mål (affärsmässiga och annat) i en annan kolumn. För en dialog kring hur/var ni ser kopplingar och en form av förklaringsgrad för hur användares mål kan sitta ihop med företagsmål. Därefter kan ni fokusera på att skapa lösningarna för användarnas mål, vara trygga i att ni har en koppling till affären, och därmed kunna/våga ha användaren i centrum.
Två superenkla saker som sagt. Lite oroande att jag skriver dessa och tycker att det behövs.
3 Ett litet test
Om ni på riktigt vill och vågar förflytta er från era egna lokaler och ut till användaren (de snackar de flesta om)… Det är läskigt att sätta något ofärdigt i handen på riktiga kunder. Till och med tankar. Men gör det. Testa. En uppmaning och teori kan inte förklara det. Testa bara. Det är en häftig känsla. Inte alls så farlig som du tror. Den centrala frågan blir: hur kan vi testa det vi vill skapa på ett sätt som samtidigt är enkelt nog för oss att faktiskt få gjort? Planera inte det perfekta, planera det som blir gjort. Läs på lite om piloter, prototyper och hypoteser. Beskriv ert test så ni vet att ni testar rätt sak, vem ni testar på samt hur ni mäter (muntlig feedback som bekräftar/bestrider, är fullt godtagbart, ofta även berikande) . Allt går att testa. Jag har själv konstruerat och faciliterat organisatoriska prototyper av och i organisationer som alternativ till större planerade omorganisationer.
Alla organisationer och företag måste verkligen observera och återkoppla allt detta till synes småttiga. Det är så vi måste träna. CX (customer experience, i det här fallet) är inte för UX-folk och designers. Det är för alla när tekniken blir så central i de flesta branscher och affärsmodeller, samt genomsyrar de flesta interaktionsytor mot användare och kunder. Visst är det underbart när företag prioriterar det såpass mycket att medarbetare kan dedikera sig helt och hållet till kunder och användare. Men där är inte alla, och därför är det viktigt att det inte är en frågan om antingen eller. De 3 punkterna här är en dummy way som inte är så dum, om alternativet är att du inte gör någonting för att det blir för omfattande för ditt tycke, smak, tid, budget eller annan begränsande faktor.
Känns det läskigt. Bra. Utmana dig och gör något som är läskigt, men inte så läskigt att du inte vågar. Skruva sedan upp volymen lite. One foot in front of the other, we call it walking.