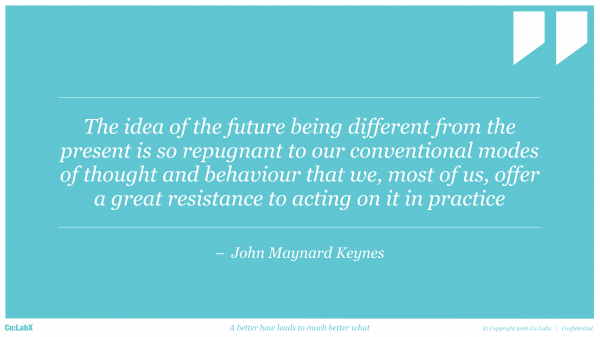 Do you recognize yourself in the quote above? Some people admit to it, most people don't.
It's easy to keep reading and keep going to seminars and courses, in an effort to understand what to do in the future. If we could only get the hang of this digitalization thingy, we'd know how to change. I get to meet lots of people in the midst of those efforts, but we have no doubt reached a tipping point from "what should we do" to "how do we do that". It is of course not evenly distributed yet, but the macro shift is indisputable.
This means the world now knows a whole lot more about what can be done and what's possible. We're familiar with a few "best practices" and cases of successful digital transformation. Now all that remains is to do it. Our Head of Digital has been here a while, maybe even a head of digital innovation. Question is – how do we do something differently in your organization? Not daily operations. Something different. How do you do new things? Here's the new frustration, bigger than ever. But it's the right one.
In a pre-workshop interview recently, I read this: "I will be very impressed if I can walk away with concrete tools for changing things, or actually doing something different."
This is why Co:LabX – where I spend most of my time since mid 2015 – is about helping companies practice doing things differently. We are an innovation partner and we design innovation processes, but what we really do is help companies practice doing new things, and with new people. The key to really start working on the future is to become more curious, and you become curious simply by doing.
We paint future scenarios, we apply lateral ideation methods to produce vast amounts of ideas and we produce prototypes to test in quick ways. But the most important thing is to foster new ways of collaborating in organizations. New types of personal relationships. That takes creativity. And like another workshop participant said: "…but then it feels like we all have to be change change agents nowadays". That's exactly it, isn't it?
Here, you can read more about Co:LabX, an innovation partner with equal focus on the what and the how.