Tidningar, nyhetsorganisationer, journalistiken (?), mediehus i en bredare bemärkelse har problem. Utmaningar drivna av teknisk utveckling, och med detta förändrade beteenden med betalningsovilja betyder grus i maskineriet. Knappast en nyhet för någon. Men som en mycket intelligent man påpekade, så kan man inte lösa problem på samma nivå som problemet skapades.
I många fall betyder det att dessa tekniskt drivna förändringar och utmaningar inte nödvändigtvis löses med hjälp av tekniska lösningar, utan lösningen ligger på en djupare, mer fundamental nivå. Från två medieorganisationer kommer två exempel, inte på lösningar, men intressanta steg som vittnar om en utvärdering av sin roll i samhället. Sin mening ur ett större perspektiv och därmed nya möjligheter att tackla utmaningarna.
Det jag enkelt kallar meaning markets (och skrev lite om här) är ett förlösande koncept/metod/arbetssätt. Absolut besläktat med begrepp som brand purpose men mycket mer aktiverande än så. Brand purpose är en form för att, som så ofta, kort och koncist utrycka ett varumärkes kärna och syfte. Ett viktigt konstaterande, men inte så speciellt drivande i sig. Att aktivt arbeta med meaning market genererar riktning, idéer, förhållningssätt och även nya/alternativa affärsmodeller eftersom det hela tiden söker slutvärdet för användaren. Inte ingångsvärden. En verbifiering av purpose helt enkelt.
Medieorganisationer tycker jag är extremt intressanta ifrån detta perspektiv. Vad har vi dem till? Vad är dom för oss i samhället? Förr i tiden väldigt tydligt nyhetsförmedlare. Mycket papper. Initierade, inlästa, ifrågasättande och granskande. Men varför?
Medieorganisationer beskrivs medievetenskapligt utefter ett gäng parametrar så som organisation, medieteknisk beskaffenhet (etermedia, print etc), juridiska aspekter, affärsmodell och så vidare. De skiljer sig på olika sätt, men hur man än vänder och vrider på det så är medieorganisationer det (starka) klistret i samhällskittet som ju förutsätter insatta och upplysta medborgare, och aktiva kanaler mellan samhällets deltagare.
Betyder det då "bara" rapportering eller har detta av historiska (och medietekniska) skäl varit så bara för att…?
The Guardian har en väldigt framåtlutad och offensiv inställning till deras roll i framtiden. Globaliserad organisation med exempelvis satsning på USA. Digital first-initiativet är mycket tydligt. De är erkända som bland de bästa på nyhetsvärdering, men inte nödvändigtvis de bästa att snappa upp och rapportera. De kan alltså inta en mer faciliterande roll, med samma slutmål, och gör också detta genom tydliga initiativ kring citizen journalism.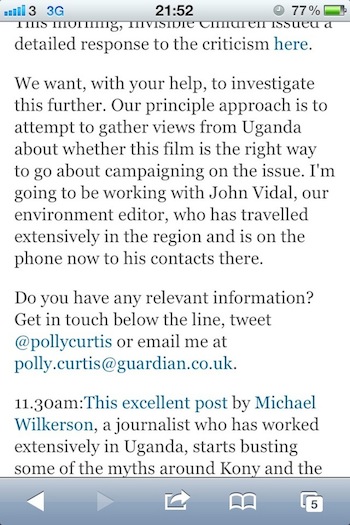 Det är då ett naturligt steg att för ett mer kollaborativt arbetssätt (och globaliserat perspektiv) börja utbilda. Inte journalister, bredare än så. Vad de kallar Guardian Master Classes har växt till sig.
Att arbeta för att stärka samhällskittet, inte själva bara rapportera och granska. Samma mål, mycket större mening. Större marknad, ökad och bredare relevans samt möjligheter att generera nya typer av intäkter och bättre knyta användare till sig (lock on, som en kollega utrycker det).
SvD tillhandahåller "SvD Läs och Skriv"
Även SvD har reflekterat över sin roll bortom rapportering och ett samtidigt konstaterande av minskande intresse ibland yngre personer. Med "Läs och Skriv" agerar man proaktivt och inte endast efter ett rapporteringsfokuserat syfte. Man spelar en aktiv roll i skapandet av intresserade (och läskunniga) medborgare. För det är målet med rapporteringen, men därmed inte sagt att rapportering är den enda aktiviteten eller metoden. Intressant, och förhoppningsvis mer än en sidosyssla.
Här finns sådant som är relevant för tonåringar. Jag läste en krönika om skolor som slösade pengar på reklam; det var något som jag inte hade tänkt på förut, säger han.
– Alexander Willemsen, 15 år
Att få engagerade samhällsmedborgare är ju jätteviktigt, säger hon och tillägger att ungas läsförmåga och samhällsintresse är centrala frågor för en demokrati.
– Madeleine Ellvin, lärare
Det är inte svårt att komma att tänka på mängder av företag – varumärken – som kämpar för sin relevans, momentum, betydelse(fullhet) och lönsamhet. Hur många är inte de som tuffar på, bakbundna av det man alltid gjort? Vad kan de göra? Vad skulle de kunna vara? Jag påmindes att posta de här raderna som legat och skrotat som lösa reflektioner när följande citat dök upp på en skärm nära mig.
"Every organisation eventually becomes inward looking, bloated and loses sight and becomes pretty much useless"
– Steve Forbes
Ouch!